January 2nd, 2016 | Author:
chadn1
A box of tomatoes like this could be at your house this summer if you join now.  We only have 10 spots so don't delay.  You can join the GI Acres CSA by clicking here.  We expect you will receive at least an average of $10 of veggies every week for a 20 weeks.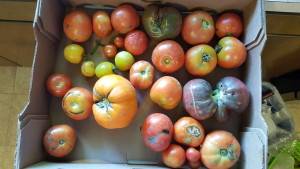 GI Acres is located on the western edge of Grand Island, Nebraska. The garden takes up about half of an acre. We also have chickens, rabbits and bees
Our farm is not USDA Certified Organic and we do not anticipate applying for such status. We strive to produce healthy vegetables using natural methods of fertilizing, building soil, and controlling pests such as insects and weeds. Those healthy vegetables will begin in mid to late May with herbs, asparagus, rhubarb and strawberries. During the season you can expect a variety of greens, beans, cucumbers, tomatoes, peppers, squash, corn and potatoes along with tips about how to cook and preserve your weekly share. The season will conclude in late September or early October. We aim for a 20-week season.
We did not grow up on farms but we did grow up in families with large gardens, eating a variety of fresh produce and canning/freezing the excess. We have maintained the tradition of growing and preserving food for our family for the past 20+ years. GI Acres is our attempt to share that passion for good food with our community.
Links to Other Local Food