What does anyone need with 1000 corn seeds? Kathy and I have been combing through seed catalogs since they started arriving in late November.  Today we sat down and placed our orders.  We ordered from 6 different companies (I think we have catalogs from 12+).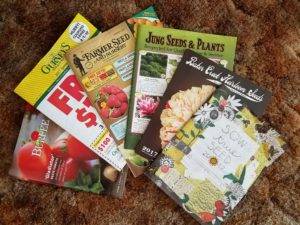 We ordered from Burpee, Gurneys, Farmer Seed and Nursery, Jung Seeds & Plants, Baker Creek Heirloom Seeds, and Sow True Seeds.  If all goes according to plan this year we will have 20 different kinds of tomatoes 12+ peppers, 11 summer squash and 11 winter squash, 4 kinds of sweet corn, a variety of beets, radishes, turnips and carrots,  Several kinds of lettuce, along with Swiss chard, collards, and mustard greens.  Four kinds of sweet corn that we plan to stagger with 2 or 3 plantings so we have corn for at least 6 weeks.  Green beans, spotted beans, long beans, peas, cucumbers, melons, and more.
In addition to the seeds we ordered a variety of fruit and nut trees to add to the orchard.  This year we also added grapes.  I haven't pulled the trigger on hops though.  Our perennials production plants and trees are expanded every year.
We still need to get onion sets and potatoes but will likely buy those locally to save on shipping costs, especially the potatoes.  Those things are heavy.